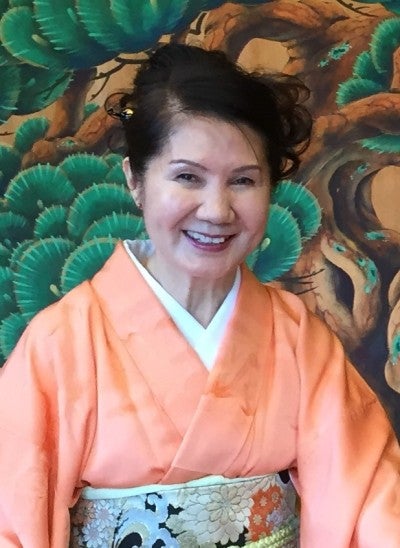 Masumi Timson
Japanese Koto Music
Masumi Timson (Salem) is an acclaimed musician trained in playing the koto, a traditionally Japanese stringed instrument. Timson also sings classical Japanese songs with koto and shamisen accompaniment and collaborates with other musicians to play Japanese traditional as well as jazz, blues, and tango music.
Bio
Masumi Timson (Salem), born and reared in Japan, plays both traditional classical and contemporary koto music, and sings Japanese classical songs while accompanying herself on koto and shamisen. The national instrument of Japan, the koto is a board zither with 13 silk strings and movable bridges. To play the koto, the musician plucks the strings with the thumb and first two fingers of the right hand, which are fitted with plectrums called tsume. The left hand presses the strings to alter their pitch. The shamisen (also spelled samisen) is long-necked fretless Japanese lute with a small square body, three twisted-silk strings, and a curved-back pegbox with side pegs. Like the koto, the shamisen is strummed with a bachi (plectrum); in addition, there is also the yubisuri, a small knitted "sock" with a loop that is worn on the thumb and index finger of the left hand and makes it easier for the musician's hand to slide along the strings of the shamisen neck—and thus change the pitch of the strings. As with many non-Western and ancient classical art forms that are embedded in their cultural context and traditions, it is customary for aspirants to receive formal as well as informal instruction. The koto appeared in the Japanese court as early as the 8th century; schools for the middle classes began in the 16th century. The shamisen, which is more of a traditional folk instrument, is used to accompany kabuki and various other performing arts. At 18, Timson began her studies with several shihan (master teachers), including Yoshiharu Yamamoto, Garei Okubo, and Masae Saheki. She holds a master's degree in music with specialization in the koto from Tokyo's Seiha Conservatory of Japanese Traditional Music, which made her a shihan. Timson teaches Koto club at Willamette University and at her own studio in Salem and performs both in Japan and across the US. She conducts many classes and workshops about music and the koto across Oregon, and performs and demonstrates her traditional music at schools, libraries, retirement homes, multicultural festivals, and at the at Portland Japanese Garden as well as for corporate cultural awareness events. She very much enjoys unique musical experiences collaborating with other instruments from completely different parts of the world, bringing cultures together and helping develop cultural awareness. Timson is a member of The Blue Bird Trio (koto, Masumi Timson; piano, Kazue Suzuki; accordion, Courtney Von Drehle), which combines traditional Japanese music with tangos, jazz, and more to blend the instruments and music of Eastern and Western cultures. Timson has performed around the world (NYC, LA, Tokyo, Paris) with Pink Martini and recorded on several of that group's albums, including one with legendary Japanese singer Saori Yuki. She's also released her own CDs with the Oregon Symphony and others.
Programs Offered
Timson can provide a variety of musical: a solo performance, collaboration with shakuhachi (traditional bamboo flute), or other western instruments such as piano, flute, and violin.
Fees
The OFN recommends that artists/culture keepers receive a fee of at least $250 plus travel expenses. Please contact artist directly.