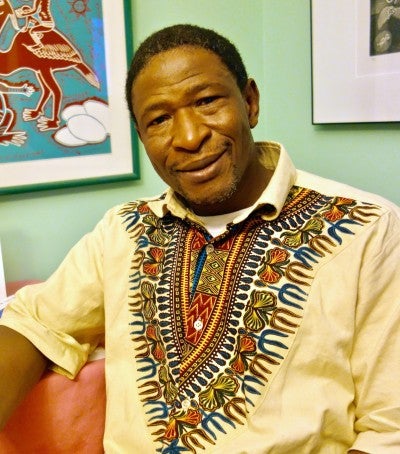 Baba Wagué Diakité
Malian Storytelling
Baba Wagué Diakité (Portland) is a traditional storyteller and mud cloth maker who grew up in Mali with his grandparents. They recounted fantastical tales of animals and nature that instilled in him a deep love for the oral tradition. Diakité's mother was also a storyteller and taught her son to make traditional mud-cloth, a Malian practice of dying cotton with fermented mud.
Bio
Baba Wagué Diakité was born in Bamako, Mali, in West Africa. As a small child he lived with his grandmother in her rural village, spending his days working alongside her in her peanut and rice fields and tending sheep with his uncle. During those first formative years, Diakité's grandmother told him magical stories of animals and nature, instilling in him a deep love and appreciation for his culture's oral tradition. When he started his formal school education, he moved back to Bamako to live with his mother, who shared more Malian stories with him. Diakité says that,"storytelling is the jumpstart of writing," and indeed, this has been very true for him. Scholastic Press published three of his children's books based on his Malian traditional tales, and Groundwood Books printed two more centered on his stories and memories of growing up in Mali. Diakité's commitment to storytelling is evident in everything that he does. Every week he works at IRCO's Africa House where he encourages young people to use their stories to maintain their identities. He and his wife open their Portland home each Saturday for African tea and dialogue, creating a space for connection amongst community members. In addition to storytelling, Diakité preserves his cultural heritage with the creation of mud-cloths, a tradition his mother taught him. Mud-cloth is traditionally used in ritual practices such as women's initiation ceremonies and childbirth, as well as as hunting camouflage; today, the cloth has come to symbolize Malian identity.
Programs Offered
Please contact artist.
Fees
The OFN recommends that artists/culture keepers receive a fee of at least $250 plus travel expenses. Please contact artists directly.