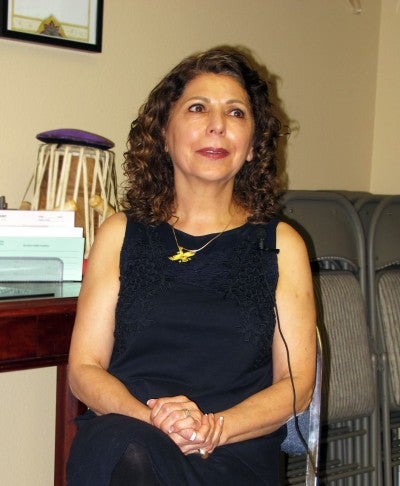 Azar Salehi
Persian Storytelling & Poetry Recitation
Azar Salehi (Beaverton) is an Iranian-born Persian storyteller and reciter of poetry. She learned her craft from her aunt's school of arts and has partnered with Portland State University and others to use the oral tradition to connect members of the Iranian diaspora to their roots.
Bio
Azar Salehi was born to a traditional family in Tehran, Iran. In 1988, with her husband and two children, she immigrated to Oregon. Poetry recitation and storytelling in Iranian culture are not just reserved for special events, but are also part of daily life. Salehi says the average Persian household includes the (the complete works of Hafez), which is consulted as an oracle in uncertain time and during (New Year). Salehi's exposure to poetry and storytelling came from her aunt's school of the arts, where Salehi often spent time as a child. "They were social mixers and a breeding ground for folklore and stories that were passed down through generations. The women who attended the classes were there as much for the tribal communion as for the skills acquired during class. At a young age I found myself drawn to this communal exchange of information. I fell in love with stories and the spoken word and this passion only gained momentum over the years." By the time she was in middle school, Salehi was performing in plays and had herself become a storyteller; by high school, she was directing plays and coaching others in enunciation and the art of passionate recitation. In 1990, Portland State University's Middle Eastern Studies program invited her to share the traditions she learned from her family and talk about her experiences in Iran. She began teaching Nowruz traditions to her students at PSU's Persia House in 1992 when she was on the Board of the Iranian Women Association of Oregon. She started with about 25 students and eventually the entire Persia House school (85 students). She taught Farsi, the language of Iran, and partnered with community members to educate children about Iranian cultural heritage, especially storytelling, costume-making, and . Since 2000, she has been an organizer, advocate and volunteer at Portland's annual Iranian Festival running the Children's Tent. For over 20 years, she has also performed on Iran-e TV for which she recites traditional Persian poetry and tells stories.
Awards and Honors
Master Artist,
Oregon Folklife Network Folk & Traditional Arts Apprenticeship (2017)
, Letter of Appreciation, Persia House, ArtMax Academy President & Board Member, Iranian Women Association of Oregon (1995-2000) Recognition for story and narration, Portland State University & Reed College (1992) First Place in Poetry Reciting, Queen of Iran (1970)
Programs Offered
Please contact artist.
Fees
The OFN recommends that artists/culture keepers receive a fee of at least $250 plus travel expenses. Please contact artists directly.