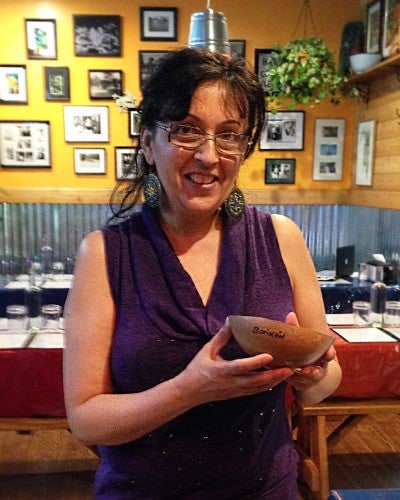 Awilda Medina Vazquez
Puerto Rican Foodways
Awilda Medina Vazquez (Beaverton) is a traditional Puerto Rican chef. Born in Utuado, Puerto Rico, she and her husband now own and operates Boriken, a Puerto Rican restaurant in Beaverton. The restaurant serves traditional Puerto Rican dishes and occasionally features live Puerto Rican music.
Bio
Awilda Medina Vazquez has been cooking for her family since before she could reach the kitchen counter. Born in Utuado, Puerto Rico, Medina Vazquez grew up on a farm in the mountainous central region of Puerto Rico where she learned to cook by watching and helping her mother. Though she had to stand on a cracker tin to see into the cooking pot, she was soon cooking for the whole family. When she was a teenager, Medina Vazquez and her family moved to Connecticut; some years later, she made her way to Oregon where she met her husband, Sam Vazquez. After growing weary of having to travel to Seattle to find a good Puerto Rican restaurant, her husband convinced Medina Vazquez to open a restaurant in Beaverton. Named for the native Taino name for Puerto Rico, Boriken Restaurant serves traditional Puerto Rican dishes and features live Puerto Rican music. Two Puerto Rican chefs preside over Boriken's kitchen, where they prepare a variety of traditional foods. Some of the restaurant's most popular dishes include mofongo (fried mashed plantains with vegetables or meat), asopao (rice and vegetable stew made with chicken, beef, or seafood), arroz con gandules (rice with green pigeon peas), and tembleque (coconut dessert pudding).
Programs Offered
Please contact artist.
Fees
The OFN recommends that artists/culture keepers receive a fee of at least $250 plus travel expenses. Please contact artists directly.
Contact
Phone number 503-596-3571

Address

Boriken Restaurant

12800 SW Canyon Road

Beaverton, OR, 97005