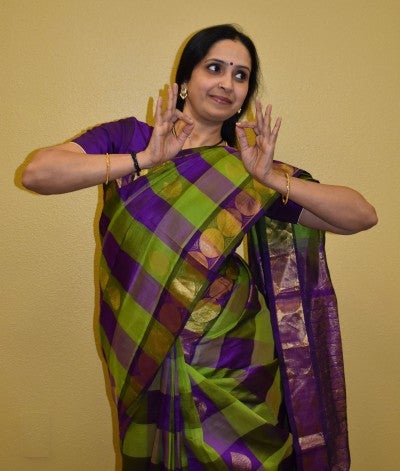 Anuradha Ganesh
Classical Indian Dance
Anuradha Ganesh (Beaverton) is a Kuchipudi dancer and teacher. Kuchipudi is one of the eight major Indian classical dances. Ganesh teaches more than 50 students from the ages of five to forty-five in her studio, Nartana School of Kuchipudi.
Bio
Anuradha Ganesh has been dancing and teaching Kuchipudi (a classical Asian Indian dance type) for over three decades. Kuchipudi is a team dance performance with roots in Hindu religious festivals. Accompanied by vocalists and musicians, this dance-drama features extensive stage movements, precise footwork, and expressive gestures and expressions to convey the stories of the Hindu gods and goddesses. While Kuchipudi was traditionally a male art form, women like Ganesh are now among the most celebrated Kuchipudi dancers. Ganesh began to dance at age three; she studied first with her father, a professional dancer. At age ten, she took up formal training in Kuchipudi with her guru, Chitti Durga Devi, with whom Ganesh studied for fourteen years. After moving to Oregon with her husband, Ganesh began teaching Kuchipudi in her home. Her classes grew so large that she had to open her own studio, Nartana School of Kuchipudi, in Beaverton. Ganesh has more than 50 students, age five to forty-five. Her students usually start as preschoolers and dance through high school. Ganesh's dance school performs in cultural events and fundraisers around the Portland metro area.
Programs Offered
Please contact artist.
Fees
The OFN recommends that artists/culture keepers receive a fee of at least $250 plus travel expenses. Please contact artists directly.