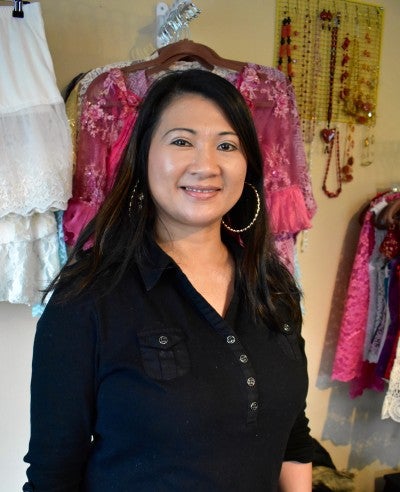 Amara Sim
Khmer Foodways
Amara Sim (Beaverton) is a traditional Khmer (Cambodian) chef. After learning to cook as a child in the Khao-I-Dang refugee camp in Thailand, Sim opened her own restaurant in the United States. She now focuses on catering traditional Cambodian dishes for the Cambodian community in the Portland Metro area.
Bio
Amara Sim is a traditional chef from Siem Reap, Cambodia. In the late 1970s, her family fled to Khao-I-Dang refugee camp on the Thai border. In order to provide for her family while her mother worked in the fields, Sim learned to prepare food from meager supplies and foraged vegetables. After arriving in the United States in the early 1980s, Sim and her sister continued to make traditional Cambodian dishes for their family. After receiving many compliments on her food, she started a catering business for events, businesses, and markets and eventually opened a restaurant. Though she has since sold the restaurant, she continues to cater for the Cambodian community in the Portland Metro area. Traditional Cambodian dishes include fish amok (fish curry), kuy teav (pork noodle soup), and num sang khya l'peou (pumpkin custard). One of Sim's favorite traditional foods to prepare is pa'awk (fermented salmon belly), which is the base for many traditional recipes. After the initial preparation, the jarred pa'awk takes over a month to ferment. Sim sells the final product to her customers, mostly within the Khmer community, who then use it to prepare soups, rice dishes, and eggs to their taste.
Programs Offered
Please contact artist.
Fees
The OFN recommends that artists/culture keepers receive a fee of at least $250 plus travel expenses. Please contact artists directly.