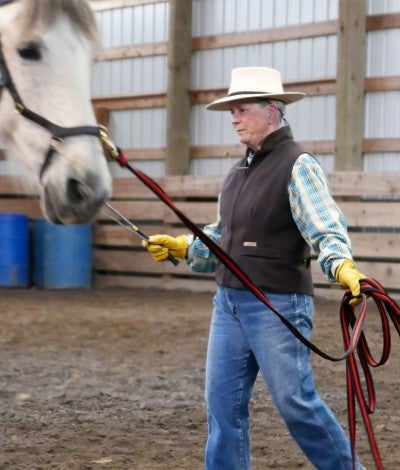 Alice Trindle
Horsemanship
Alice Trindle (Haines) is a horsemanship instructor who has been riding for as long as she can remember. Encouraged by her mentor to begin teaching at her ranch, she feels that passing on traditional horsemanship is her life's calling.
Bio
"I can't remember not riding [a horse]," Alice Trindle shared. One of Trindle's fondest memories was sitting on the back of a saddle, hanging on to her brother's belt loops. Trindle's parents were ranchers in the valley. A bareback rider up to the age of 10, Trindle rode freely throughout Baker Valley exploring with her friends. At the time, Trindle didn't realize how much these experiences would help shape her character. Over the years the horses have been a constant, the one common thread throughout Trindle's life. "They were there to be as my teachers," she explained. "With that I began to realize what an honor it was to have them in my life." For 25 years Trindle has immersed herself in the study of the horse. "I really set myself up where I could listen to the horses..." she shared, "to study them a bit more, and turn that around to perhaps sharing what they're teaching me...so [my students] could apply that as well." Trindle studied under Dennis Reis in California, a teacher she admired for his special ability to "beautifully and effortlessly" be in communication with his horse. Reis encouraged Trindle to begin teaching horsemanship at her ranch outside of Haines and at clinics elsewhere. The transition to teaching wasn't difficult, in part, because Trindle felt it was her calling. "I hate to see a world in another 50 years, another 100 years, that wouldn't know about these [horsemanship] traditions and what they could bring to our lives," she confided.
Programs Offered
Please contact artist.
Fees
The OFN recommends that artists/culture keepers receive a fee of at least $250 plus travel expenses. Please contact artists directly.