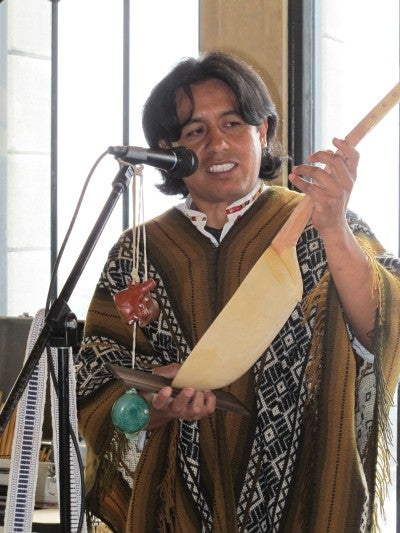 Alex Llumiquinga Perez
Andean Music and Musical Instrument Making
Alex Llumiquinga Perez (Otter Rock/Salem) is a traditional Andean musician and instrument maker. Perez, whose father gave him his first charango (10-stringed lute), has been passionate about music and instrument making his whole life.
Bio
Alex Llumiquinga Perez was a child when he first started playing music in his native Quito, Ecuador. His father presented him his first charango (10-stringed lute) when Llumiquinga Perez was 12. Their neighbor, a musician and instrument maker, had hand-fashioned the instrument, complete with a panther carving. Since then, music and instruments have been his passion. Prior to moving to Oregon, Llumiquinga Perez toured for several years with the Incan folk group Chayag. For more than 20 years, Chayag has shared and preserved the ancestral music, dance and culture of the indigenous people of the Andes. Llumiquinga Perez continues to perform with the group. In Oregon since 2001, Llumiquinga Perez has performed in a range of venues, including schools, colleges, public libraries, and music festivals. He also makes instruments. Llumiquinga Perez has developed techniques for carving a variety of Andean flutes, including the pan and river cane flutes. Alex Llumiquinga Perez has also been a Master Artist in the Oregon Folklife Network's Traditional Arts Apprenticeship program.
Programs Offered
Alex will perform traditional music from Ecuador, Peru, and Bolivia. He will introduce attendees to the various instruments—pan flutes, guitar, drums—and their history, as well as teach some simple traditional dances. Depending on the size of the group, students can practice the Andean rhythms with Alex on the drums. This is an engaging performance that allows students to interact with the music through song and dance: Alex has the students dancing in the end and teaches a few refrains of traditional songs in Spanish.
Technology Needed
Please contact the artist.
Fees
The OFN recommends that artists/culture keepers receive a fee of at least $250 plus travel expenses. Please contact artists directly.